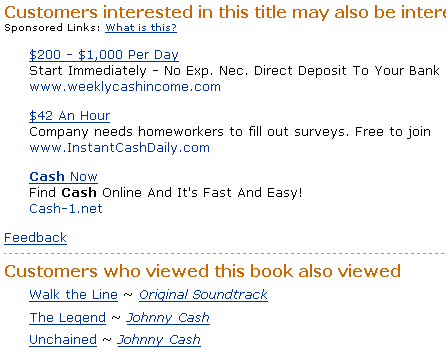 By
Luis Galarza - Internet Marketing And Make Money Online Tips
.
Most Merchants Want You To You Use Their Marketing Materials To Promote Their Affiliate Program or Products. Knowing When Is Find To Use Your Own Affiliate Marketing Ads Or The Merchants Can Increase Your Sales And Commissions or It Can Drop Kill Your Chances To Success!

I always recommend affiliate marketing beginners that if you want to become a successful associate program marketer you better off designing and using your own promotional materials for each product your want to promote. Before I show you an easy way to write sales copy for your ads, you need to know that it doesn't matter what type of Internet marketing strategies you are planning on using, to make ensure a very successful Internet advertising campaign you need to learn how to apply
split testing and tracking
to each of your campaigns.
Making Testing and Tracking an Easy Task.
There are many ways to test and track an ad online, but for now you need to know two things that will easy this process, specially if you are just starting your Internet business, plus analyzing your marketing data can help you improve your ads, and drop those with low sales conversions. The two marketing tips below will help you increase your responses, and spot winner ads faster.
1.-
Write sales copy and create graphics ads for the affiliate product you are promoting targeting the main benefits to the product audience.
2.-
Create a strategic landing page, and strategic landing pages are those closely relevant to each ad sales copy. Landing pages can be name squeeze pages, sub-niche blog post,
lead capture
pages, and interactive landing pages.
The Good, The Bad, And The Ugly Of Merchants Promotional Materials.
Many new online entrepreneurs promote affiliate programs with the ads provided by the merchant, which is OK if you want a few sales here in there, but if you want to increase your commissions the best way is to have the control of your advertisement, and I'm not talking only about the place where you are going to post your advertising, I'm talking about having control on the sales copy, analytics, and tuning. These are not the only reasons why you should avoid using merchants promotion tools, there is also the fact that you will be one of the bunch of other affiliates (your competition) using the same ads, which will eventually lower the ad response.
Now, you also need to know that in some cases is perfectly OK to use the affiliate company's marketing materials... So, how would you know when it's OK to use the merchants promotional tools? Simple, if the affiliate program is from a brand name online or offline merchant like Walmart, Amazon, Dell, etc. is OK to use their ads, it's actually recommended to use the ads that have their logo or company name on it, because their consumer credibility will help you increase clicks through and sales.
What happens when you promote exclusive merchants or smaller companies? Here is when the next tips apply.
The Good.
Using merchant marketing materials is good because most of this ads are already been tested and proven to have good conversions rates. Also, if you use their pre-made ads, save you the time you will need to put in creating your own graphics, and sales copy. Plus, they are excellent for marketers with no sales copywriting and graphic design skills.
The Bad.
Like I said before, you will be competing for the same target audience using the same promotional materials as many of the merchants affiliates. Another thing you should know is that many merchants have a great product or service but lack of the ability of writing good sales copy, which will kill your sales opportunities. That's why if you create your own ads you can avoid this problem.
The Ugly.
Many small online merchants will try to make the most out of their affiliates efforts, by always branding their image ads with their website URL. This branding technique can also steal many of your sales, because some people will not click the banners in your site or blog and will just write the merchants URL on their browser, which not give you any credit for the sales or leads your marketing generated.
Affiliate Marketing Tips.
Stick to text ads because they deliver higher click through conversions.
Only use merchant advertising materials that aren't brand with their company name, product name, and URL.
When designing your own image ads or banners, keep them direct to the point, and use text to make the sale.
When using articles or blog posts as promotion tools, avoid using those provided by the affiliate company, because unique quality content is very effective.
If you promoting products to your email list, you can increase your conversions by writing your own email promotion.

What is the best approach for you? Please, let me know what you think is a better way to promote associate programs?
Recommended Resources.
-
Search Marketing Lab
. Updated daily.
-
Bebiz: Niche Internet Business Builder
. New.
-
Insider Secrets To Marketing Your Business Online
. New Version.
To learn how you can be part of an online association full with Internet business experts and advisers for less than 4 dollars, visit the
Internet Entrepreneurs Club
.
In Conclusion:
As you can see both alternative have cons and pros, and you need to decide what's better for you make the most out of your
web traffic
. Personally I prefer to create my own ads and promotion material, but I had to used unbranded ads in my affiliate marketing campaign with good results. Is all about testing, analytics, and tuning those ads.
To your success,

Luis Galarza, Internet Marketing Consultant Massachusetts.

.