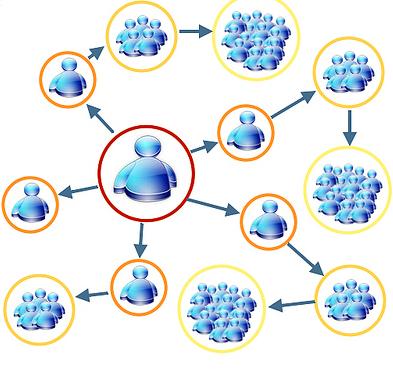 By
Luis Galarza - Internet Marketing And Make Money Online Tips
.
N. How Can I Make Money Online With MLM or Network Marketing? Here Are A Few Internet Marketing Tips You Can Use To Generate Revenue Today Even If You Fail Offline!

MLM or network marketing is one of the best ways to make money online or offline, period! But, I need to admit that for most of the average marketing beginners that had been trying to build their MLM business offline just didn't happened, and now you heard that you can lower your marketing cost by doing it online... Well my friends, it's true you can lower your business expenses by using the Internet as your marketing channel, but that's not all, the Internet also give network marketing entrepreneurs the ability to build their downline and income way faster than if you did it off-line.
By doing business online you will enjoy a lot of good benefits, like:
Free or low business operation cost.
You can promote your MLM business using free or low cost marketing and advertising resources.
You can build a list of qualify prospects in no time using free tools.
Generate brand authority using social media marketing.
The Internet makes viral marketing a walk in the park.
You get a bigger audience to view your marketing message, instead of just a few local people.
Plus you can completely automate your business operation, so you can keep working on what's important, marketing.
As you can see the Internet give you a good amount of great benefits that can help you speed up your success. But, to really make money online promoting a MLM or network marketing program you need to know what marketing mistakes you need to avoid, what Internet business tools you must have to operate your business like a pro, what marketing skills you must learn before starting any advertising campaign, and you need to know what Internet marketing strategies are proven to deliver the best response or
web conversions
. don't worry I'm going to give you all that information below and on part 2 and 3 of this blog post.
MLM or Network Marketing Mistakes.
First I need to tell you to forget most of the marketing techniques teach by the company you are promoting, because most of this firms will teach you the same old tactics that maybe use to work before, but in this world full of on your face advertising you need to be careful on how you approach your prospects, this people watch advertisements all over the place and now you want to do the same... To make it in this rapid world of business you need to be creative and think about innovative ways to get your message to your audience. So, please avoid these mistakes:
1.- Promoting your MLM business and products to your family and friends:
Offline or online I recommend you, don't do it! You don't want to be that guy in the party that everyone want to keep away from because his talking about his business opportunity or products on each conversation. This is not the way to do business, so leave them alone... so you don't loose your friends and family.
2.- Putting all your fate and business in the hands of your sponsor:
Don't do this because you don't know if you sponsor will quick or not, learn as much as you can from them, if there anything you can learn, but focus in your own marketing plan.
3.- Buying business opportunity leads to build your network downline:
First you need to know that most of this leads are not hot leads, they still cold ones, because they don't know you are going to contact them. Another think is you need to know exactly where and how this was compile, and how old it is. Plus, top network marketing reps don't buy leads they generate there own list of hot prospects.
4.- Cold calling and cold door knocking:
Most cold call and cold door leads list don't convert well, in fact their conversion rate is less than 0.3% or worst. Just build your own list of hot pre-qualify leads, which are most likely to purchase your product or sign up for the business.
5.- Promoting the MLM company and their products:
This is a huge mistake that most offline and online MLMers make, they put all their marketing efforts in promoting the company's affairs, but what if the company goes out of business, then all your efforts were for nothing... Instead you need to become the authority and the brand. I will explain this later in details.
6.- Going to those time and gas waisting seminars:
If you plan to network with other business people at those company network marketing seminars looking to build some partnerships or joint ventures then is OK to go to a few of those events, and track your success factor. But, if not, you will be waisting your time. You can't get sales or build your downline there, because most people there already part or want to be part of the business under some else. So, save some gas and invest on marketing for yourself.
7.- Trying to sell without complete knowledge of the company and their offerings:
This is very important. You can't sell something without knowing everything you should know about the business and the products. as a sales person you need to show authority with your knowledge. So invest some time in learning all the company's materials, and even do some research online to gain even more information about the market.
8.- Buying newspaper classified that reach non-targeted viewers:
This is what is called "Fishing Marketing", which is a way to make a none targeted mass promotion on a big amount of regular people, and see if you can get a fishes from the crowd. There are ways to make a free strategic fishing marketing campaign online that delivers better results, but for now just keep away from this strategies, specially offline where you need to invest money and time. Focus on targeted prospects, and that's it.
9.- Using PPC (Pay-Per-Click) advertising or Adwords without knowing how to use it right:
PPC or Adwords
are a great online advertising channel that can send your business to the roof when is use the right way. If you don't know how it works you can drain your company's and personal budget in no time. So, get a course and learn how to do it right before jumping in. A good training ebook you can download is
Google Magic Formula
. Also check the list of resources at the end of the post.
10.- Using mass mailing promotions to build your business:
Same as posting classified ads in regular newspapers... Avoid this, specially online where is called "Spam", this is illegal and can cost you the business, your internet service, a huge fee, and even jail time. Don't worry there is the ethical way to do
email marketing
and mail order marketing.
I will continue on part 2 with the right tools you need to make money online with MLM.
Recommended Resources.
-
Internet Wealth Explosion Training System
. NEW!
Scam review
.
-
Insider Secrets To Marketing Your Business Online
. New Version.
-
Search Marketing Lab
. To be ahead of the SEO strategies that work.
-
Google Snatch - The Free Click Formula
. New!
-
Beyond The Hype: Succeed With Network Marketing
.
To learn how you can be part of a small business association full with Internet marketing experts visit the
Internet Entrepreneurs Club
.
In Conclusion:
Making money online in the network marketing industry is simple and can be very lucrative when you avoid the above mistakes. Learn the strategies that work, and don't forget to do the appropriate
testing and tracking
that will help you improve your
web conversions
.
To your success,

Luis Galarza, Internet Marketing Consultant Massachusetts.

A proud member of
-
The International Association of Home Business Entrepreneurs
.